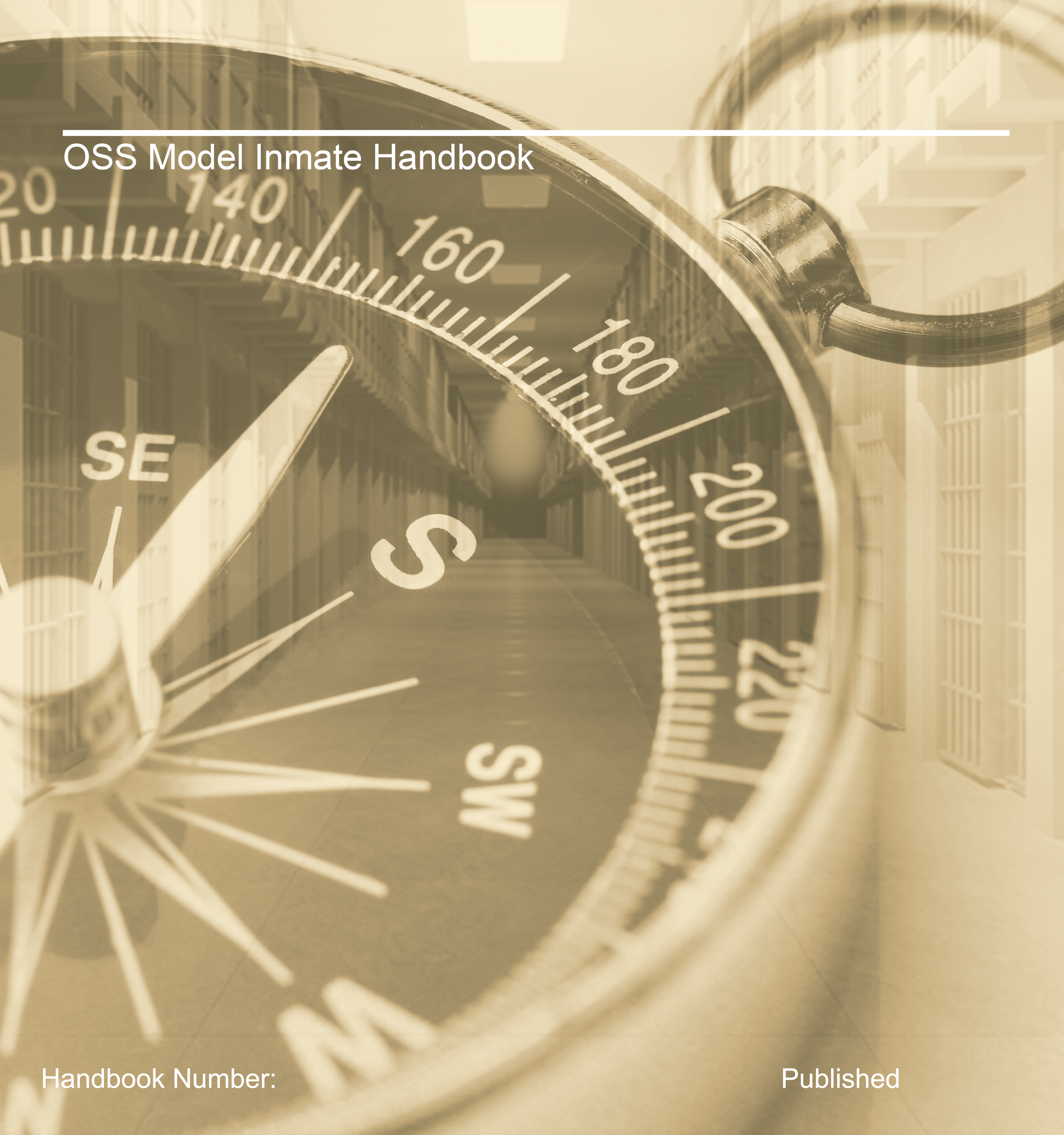 Inmate & Jail Staff Handbooks
(Click for Inmate Handbook Sample)
(Click for Jail Staff Handbook Sample)

Model Inmate & Jail Staff Handbooks
The OSS Inmate & Jail Staff Handbooks are designed to provide a better understanding of facility rules, procedures, and what is expected within a jail and correctional environment.  
Both staff and inmates want to be treated fairly. By their very nature, correctional facilities require everyone to work or live in very close proximity. Life-safety and healthy living conditions must remain a priority. 
Aligning management and staff expectations with facility inmates is paramount to providing a safe, clean, and healthy environment for everyone. 
OSS Model Inmate & Jail Staff Handbooks are divided into 6 sections with 9 forms/attachments. Provided in MS Word™, they are designed to be easily edited to fit your facility's operational approaches. Each page may be edited, graphically enhanced, reserved for future use, added to, or even deleted. You can merge and modify without being limited to cumbersome formats such as Adobe PDF formats. There truly are no limitations to your facility-specific modifications and your enhancements. 
Handbooks include such important guidelines as:
SECTION 1 – DISCIPLINE
Definition of Violations
Low-Class Violations
Medium-Class Violations
High-Class Violations
Penalties for Violations
SECTION 2 – GENERAL INFORMATION
Agency Contact Information
Bibles, Qurans, & Religious Study Material
Bail & Other Bonds
Calling by Phone
Cashless Facility
Commissary Accounts
Classification
Clothing
Commissary
Contraband
Copies
Counseling
Court Dates
Emergency Assistance
Fees Paid By Inmates
Hair Care & Hair Cuts
Headcounts
High Risk Inmates
Hygiene Kits
Indigent Inmates
Key Releases
Law Information
Mail – Incoming
Mail – Outgoing
Medical Attention
Medications
Meeting with Staff
Money for Inmate Accounts & Fees – at Release
Nail Clippers
Notary Service
Packages
Paperwork
Permitted Items at Intake
Permitted Items Allowed in Housing Unit
Power of Attorney
Property Releases
Property Withdrawal
Public Defender
Public Information
Razors
Release Dates
Request Forms
Release Times
See Something – Say Something
Sexual Misconduct by Inmates
Sexual Misconduct by Staff
Tobacco-Free Facility
Statements – Financial
Telephone Service
Underwear
Western Union Quick Collect
Work Release Information
SECTION 3 – PRIVILEGES
Commissary Privileges
Games
Inmate Welfare Fund
Mail Privileges
Telephone Privileges
Television Privileges
Visitation Privileges
Work Assignment Privileges – Trustee Status
SECTION 4 – PROGRAMS & SERVICES
Library Services
Program Information
Recreation Programs
Religious Counseling
Religious Services
SECTION 5 – RIGHTS
Attorney Access Rights
Civil Rights Complaint Form
Court Access Rights
Disciplinary Procedure Rights
Grievance Procedure Rights
Mail Rights
Medical Care Rights
Program Access Rights
Racial Segregation Rights
Religious Rights
Search & Seizure Rights
Suicide Prevention Rights
Telephone Rights
SECTION 6 – RULES & REGULATIONS
Altering Equipment
Bartering or Trading
Blocking View
Cleanup of Housing Units
Conduct
Contraband
Disruptive Behavior
Drug Testing
Food
Gambling
Harassment
Horseplay
Language
Laundry
Lights Out
Marriages
Meals
Movement within Facility
Property – Excessive
Request Form Rules
Respect
Search & Seizure
Sexual Relations
Shower & Washing
Tobacco
Stealing
Storage Bins
Tattoos & Body Piercing
Trash
Uniforms
Walls
Wristbands
SECTION 7 – SCHEDULES
Attorney Visits
Cleaning Carts
Commissary
Feminine Hygiene Products
Haircuts
Inmate-Staff Meetings
Laundry
Lights
Mail
Meals
Medication Distribution
Nail Clippers
Office Hours
Razors
Recreation
Retiring for the Night
Rising in the Morning
Showers
Sick Call & Medical Attention Request Forms
Soap
Telephone
Toilet Paper Distribution
Visitation
SECTION 8 – TRUSTEES
Conditions of Status
Contact Visits
Hair Guidelines
Kitchen Workers
Privileges
Sentence Reductions & Earned Good Time
Shoes
Timecards
Work Assignments
SECTION 9 – FEDERAL OR STATE INMATES
Access to Services
Conditions
ATTACHMENT ONE – Fee Schedule
ATTACHMENT TWO – Grievance Form
ATTACHMENT THREE – Grievance Appeal Form
ATTACHMENT FOUR – Maintenance Request Form
ATTACHMENT FIVE – Miscellaneous Request Form
ATTACHMENT SIX – Sick Call & Medical Attention Request Form
Subject Matter Experts
OSS Subject Matter Experts (SMEs) are recognized in both federal and numerous state courts. Our SMEs are well versed in the latest evolving industry best practices and court decisions, and regularly teach law enforcement officers, jailers, risk managers and attorneys.
Online Training Support
Through OSS Academy®, we provide 160+ law enforcement, jail, and telecommunications courses online. OSS Academy® courses are recognized by more Peace Officer Standards and Training boards and correctional associations than any other online training provider. For more information, Contact OSS Academy®.
Expert Support
OSS Subject Matter Experts are just a phone call away. We welcome opportunities to discuss policy or risk management related issues with our clients. Whether you have a policy development question or a risk management issue, OSS SMEs will provide On-Call Consulting at no additional charge.
Turnkey Policies
OSS Subject Matter Experts are also available to develop turnkey policies for your agency.
Litigation Support
OSS Subject Matter Experts have been retained in 1,200+ liability-related cases. Should the need ever arise; we are available to provide your defense team with expert litigation support. [OSS Expert Witness Consulting Services]
Primary Benefits of OSS Law Enforcement Policy & Procedures Manual:
Cost: Your new OSS Model Inmate & Jail Staff Handbooks are only $795.
Liability Reduction: No doubt, using OSS Model Inmate & Jail Staff Handbooks will reduce liability. Just as important, your staff and inmates are safer.
Need Help: Subject Matter Experts: OSS provides you with access to court-recognized SMEs.
Primary Features of OSS Law Enforcement Policy & Procedures Manual:
Depth of Services: No law enforcement risk management firm in the United States can provide your agency with the depth of services offered by OSS Law Enforcement Advisors®.
Microsoft Word Format: Handbooks can be available within minutes of receiving your order. Each may be downloaded to your computer, edited, graphically enhanced, reserved for future use, added to, or even deleted. You can merge and modify without being limited to Adobe formats, or Internet speeds.
Ownership
We do not restrict your use of OSS Model Inmate & Jail Staff Handbooks, and there is no licensing fee or recurring costs. Once purchased, your handbooks belong to your facility.
ORDERING OR MORE INFORMATION
To place a product order visit the OSS Store Front or for more about what our clients are saying about us, review OSS Accolades or Contact OSS.